HRH The Duke of Gloucester opens Rutherford Cancer Centre North East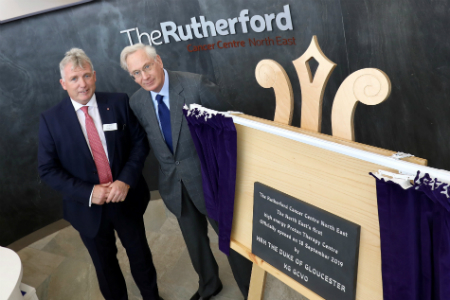 The Rutherford Cancer Centre North East was officially opened by HRH The Duke of Gloucester on 18 Septemer 2019, heralding a significant milestone for advanced cancer care in the region.
The centre, built at a cost of £35 million, was established near Bedlington, Northumberland, to meet patient demand in an area which has some of the highest incidence of cancer in the UK.
It offers chemotherapy, immunotherapy, radiotherapy and high energy proton beam therapy to private paying, insured and NHS patients. The Northumbria Healthcare NHS Foundation Trust sends chemotherapy patients to the centre.
Mike Moran, CEO of Rutherford Health Plc which operates the Rutherford Cancer Centres, said: "We are delighted and honoured that HRH The Duke of Gloucester officially opened the centre in what is a momentous day for cancer care in the North East. This Centre will play a fundamental role in turning the tide against cancer in the region and extends patient choice in the range of treatments that are available to them."
Speaking as he unveiled an opening plaque at the centre, HRH The Duke of Gloucester, said: "It gives me great pleasure for me to come here and have this very magnificent task of declaring your new Rutherford Cancer Centre officially open. Cancer cure rates are extremely poor considering that we lead the world in cancer research. There are lots of clever people who are learning more and more about cancer and how to cure it. It can only be through applying these principles with the greatest efficiency that we can reverse the statistics.
"Congratulations on having created this splendid building and being part of your system that I am sure will bring greater comfort to your patients."
Sir James Mackey, CEO of Northumbria Healthcare NHS Foundation Trust, said: "The health and care system within Northumberland is proven to be one of the best in England, something we are all very proud of. Adding now the additional services from the Rutherford Cancer Centre ensures patients continue to get access to the latest and most advanced treatments for cancer.
"This demonstrates the strength public and private sector partnerships can bring to the fight against cancer. We are therefore delighted to be working with the Centre to ensure cancer patients get access to the treatments they need, within a timeframe that best suits their needs."
Ian Lavery MP said: "It has been absolutely fantastic to see a world-class centre such as this opening here in Wansbeck Constituency. Having been a campaigner for investment in Cancer Care across the North East for many years, I know how much of a difference this development will make to so many people's lives. The many people who will be treated at the Rutherford Centre over the coming years will have access to a truly outstanding facility based in the heart of Northumberland."
Rutherford Health Plc operates a network of Rutherford Cancer Centres which offer the latest cancer therapies including proton beam therapy. Its centre in Wales introduced proton beam therapy to the UK and treated a cancer patient with the pioneering treatment in the UK for the first time last year. It also has a centre in Reading whilst a centre in Liverpool is under construction.
The combined centres boast a centrally networked management system which allows patients to be treated at any Rutherford centre after they have been screened.
Photo: HRH The Duke of Gloucester unveiling an opening plaque with Rutherford Health CEO Mike Moran
Other News