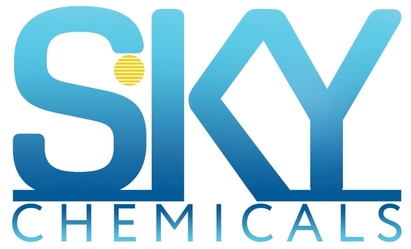 Sky Chemicals (UK) Ltd
Unit 12 Sheffield Design Studios

Sheffield
S3 8DB
United Kingdom
0114 278 0222
COMPANY INFORMATION
Our Story
A little about us…
With over a decade's experience in the cleaning chemical industry, we have a wealth of reliable experts to provide you with a wide range of high-quality, environmentally friendly, and extremely cost-effective cleaning products. We distribute throughout the UK, and can also fulfill contract orders and orders from the public sector, and export our products around the world.
We specialize in using our excellent knowledge to give you the precise product and service that you require, and we are able to tailor our service to meet your needs. We are best described as a bespoke chemical company that outsources its manufacturing and laboratory arm in order to concentrate on delivering exactly what our customers require.
Our products cater for almost all cleaning situations including personal hygiene, odor control, washrooms, catering, floors and carpets, animal care, and other specialist products. In addition, we are able to supply a range of bleaches, disinfectants, detergents, and multi-purpose cleaners.
In this changing economy, we understand the importance of value for money and will strive to achieve value for money for each of our consumers.
Our Vision
Looking to the future
The COVID-19 crisis has reinforced the importance of disinfection and cleaning practices being maintained to high standards in order to avoid infection and illness.
The effects of the pandemic will be felt for a long time and it should encourage the adoption of high-level cleaning products, with sectors continually looking to take on and try new & innovative products.
Infection control policies will face more scrutiny and it's important that people are well-equipped to deal with future crises.
We want to be at the forefront of the fight against infection and are working hard alongside a host of academics and industry-leading professionals to develop cutting-edge solutions to the problems at hand.
Sustainability
We endeavor to ensure that our carbon footprint is minimized as much as possible and we take a number of steps to be environmentally conscious and ensure that sustainability is at the forefront of everything we do.
Infection Control
We work with hospitals and care establishments to supply cleaning products, which help to ensure that they maintain the highest levels of protection for both staff and patients.
Maintaining a high standard of personal and social hygiene is important in order to prevent the spread of infections and illnesses.
Managing the spread of infections is also a key issue in the healthcare sector. Current disinfectants are failing to achieve this and there is growing concern inside and outside the sector. Existing pathogens and a new generation of pathogens are showing signs of becoming immune to established products.
We believe our healthcare products can offer alternatives to what's currently on the market and ultimately help reduce costs spent on fighting healthcare-associated infections.
PRODUCTS AND SERVICES