Are your decontamination procedures meeting official guidance for ultrasound? We are all for ultrasound practitioners working smarter, not harder. In point of care ultrasound, having one complete decontamination system to rapidly and effectively treat the entire device anytime, anywhere, has to be the way forward.
UV and H2O2 automated systems don't treat the entire device: they don't incorporate the vital cleaning step before disinfecting, and they don't cover device handles, controls, plugs and cables. Published science has proven that the cable, plug and probe holder can become contaminated with infectious microorganisms after probe use.[1][2][3]
Without additional wiping products, automated systems do not meet decontamination guidelines for complete ultrasound device reprocessing.
Users of automated systems are forced to search for the extra products required to complete the decontamination procedure.
With a complete decontamination solution such as the Tristel Trio Wipes System you can be sure that each process is compliant with official guidelines:
Ultrasound devices are cleaned prior to high-level disinfection
"Thorough cleaning is required before high-level disinfection because inorganic and organic materials that remain on the surfaces of instruments interfere with the effectiveness of these procedures." - Centres for Disease Control and Prevention.[4]
Ultrasound probe handles, cables, controls and plugs are cleaned and disinfected – not just the probe
"The electrical cable and plug socket can similarly become contaminated. Therefore the whole of the probe – not just the insertion tube – should be carefully cleaned followed by wiping with disinfectant." HTM 01-06: Decontamination of Flexible Endoscopes. Part C: Operational Management, 3.68[5]
"Other surfaces (controls, keyboards, electrical connectors, etc.) may have sequential contact with an operator's contaminated gloved hands and the probe." HIS guidance.[6]
Does your ultrasound decontamination procedure tick all the boxes?
We compare ultrasound decontamination procedures on the market: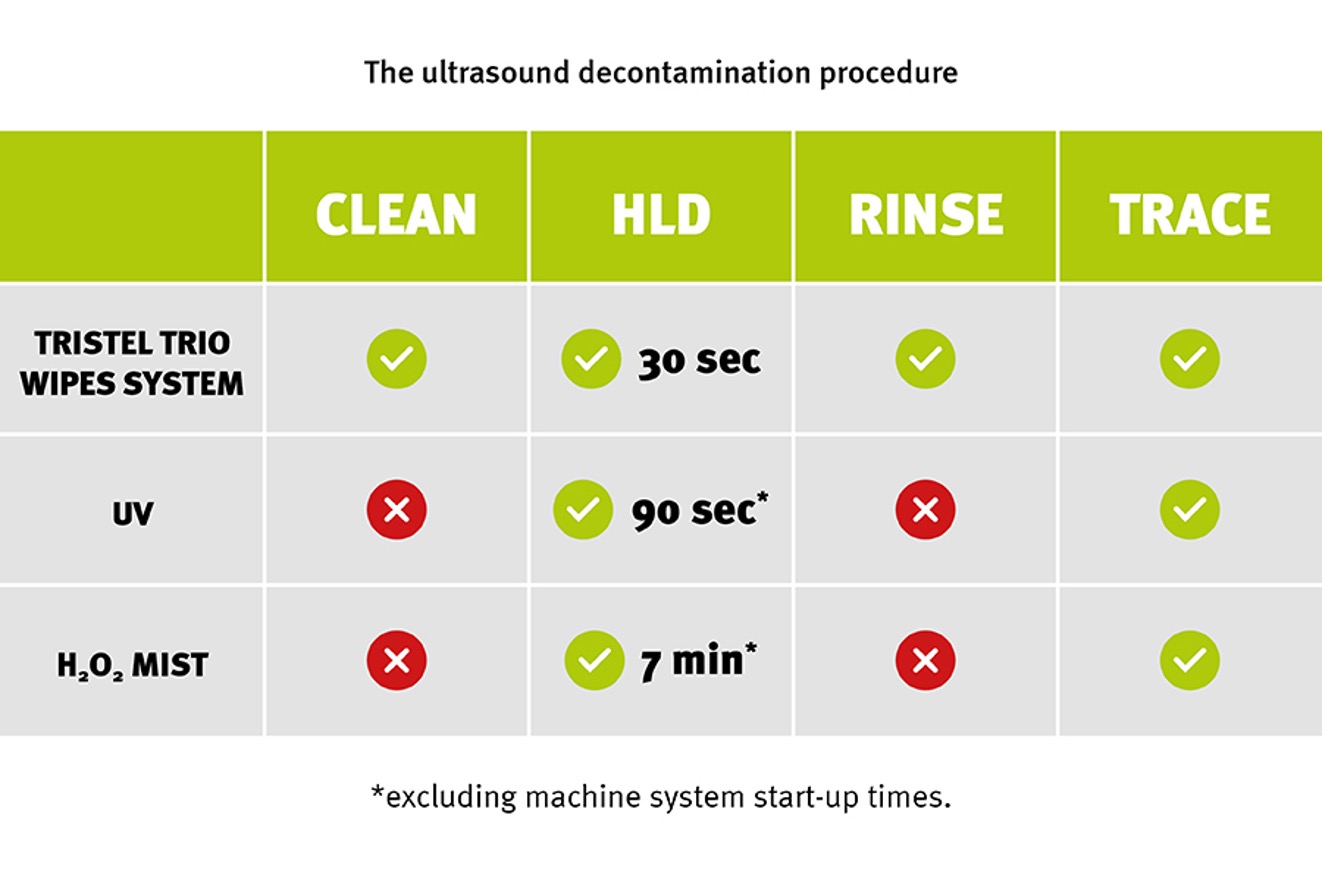 The Tristel Trio Wipes System provides the fastest-acting ultrasound decontamination procedure. It ensures that the entire device is cleaned, high-level disinfected and rinsed, from probe tip to plug.

Discover the portable, compliant and digitally traceable ultrasound solution
With the Tristel Trio Wipes System, decontaminate the entire device, including the cable, plug and holder in a matter of minutes. The Tristel Sporicidal Wipe, which represents the high-level disinfection step, is proven effective in only 30 seconds. That is one minute faster than disinfection in a UV system and 14 times faster than disinfection in an H2O2 mist system. So, when seconds count, you can save vital time without compromising reliability.
To find out more, speak to the Tristel team today or join our 7000+ network of healthcare industry professionals for all the latest news and guidance.
References
[1] Guidelines for Cleaning Transvaginal Ultrasound Transducers Between Patients - Ultrasound in Medicine and Biology (umbjournal.org)
[2] Westerway, S. C., Basseal, J. M., Brockway, A., Hyett, J. A., Carter, D. A. (2016) 'Potential Infection Control Risks Associated with Ultrasound Equipment – A Bacterial Perspective', Ultrasound in Medicine & Biology [Online] DOI: 10.1016/j.ultrasmedbio.2016.09.004 (Accessed 25 October 2018).
[3] Keys, M., Sim, B., Thom, O., Tunbridge, M., Barnett, A., Fraser, J. (2015) 'Efforts to Attenuate the Spread of Infection (EASI): a prospective, observational multicentre survey of ultrasound equipment in Australian emergency departments and intensive care units', Critical care and resuscitation, vol. 17, no. 1, pp. 43-46 [Online]. Available at: https://www.ncbi.nlm.nih.gov/pubmed/25702761 (Accessed 04 April 2019)
[4] Centres for Disease Control and Prevention (CDC), Cleaning, Guideline for Disinfection and Sterilisation in Healthcare Facilities (2008)
[5] Health Technical Memorandum 01-06: Decontamination of flexible endoscopes. Part C: Operational management (england.nhs.uk)
[6] https://pubmed.ncbi.nlm.nih.gov/30092292/