Patient flow platform supports Kent hospitals to tackle patient waits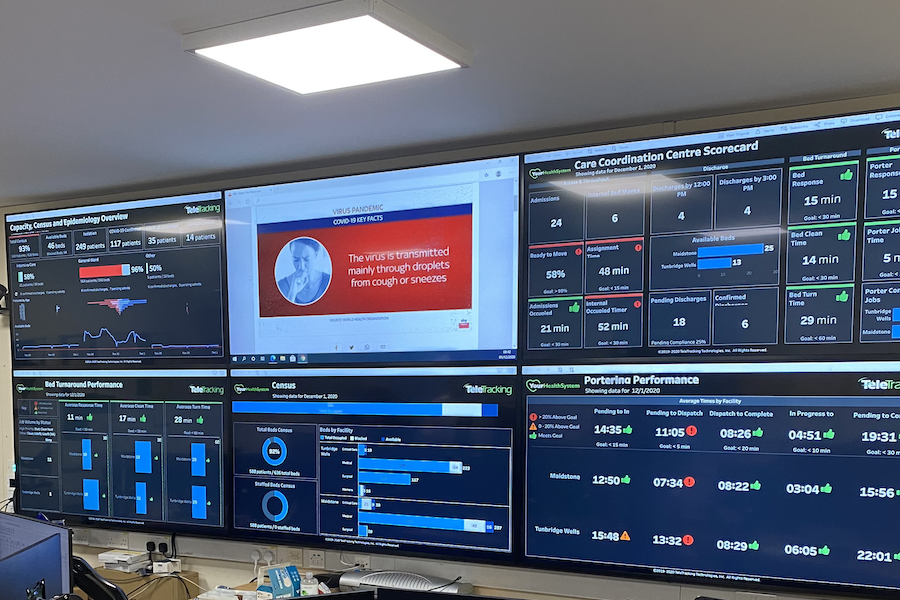 Maidstone and Tunbridge Wells NHS Trust (MTW) is striving to ensure that no patient has to wait for the care they need, by implementing a centralised care co-ordination centre powered by TeleTracking's patient flow platform.
The software provides real-time visibility of the bed status (occupied; pending discharge; 'dirty' / 'clean'; ready to be allocated; allocated) across its two sites: Maidstone Hospital and Tunbridge Wells Hospital.
With real-time visibility of available beds, the centre can manage patient flow (the way it moves patients in and out of beds) more effectively ensuring patients are provided with the right care, in the right place, at the right time. In addition, the Trust is able to balance anticipated demand with availability across its two hospitals in order to maximise capacity and achieve operational excellence.
The care co-ordination centre, which is operational 24/7, 365 days of the year, is located in Maidstone and offers MTW a centralised, holistic approach to bed management. Underpinned by TeleTracking's operational patient flow platform, a dedicated team of nursing professionals and bed placement specialists have real-time visibility of bed status across its sites, increasing access and allowing patient flow to be managed more efficiently and effectively.
To ensure beds are available as soon as patients are discharged from its care, MTW has also recruited a new Bed Turnaround Team. Made up of 10 members of staff located at each site, the team is responsible for cleaning the bed and bed space, checking the integrity of the mattress and making the bed so it is ready for the next patient. The team then sends an update via a handheld mobile device to the care co-ordination centre telling them that the bed is clean and available for use. The centre then allocates the bed to a patient before sending a message to the portering team so a porter can take the next patient to the available bed.
Since MTW launched the care co-ordination centre, the Trust has already seen enormous benefits for both staff and patients:
Bed turnaround time has more than halved from approximately 150 minutes to approximately 60 minutes on average.
The time it takes to get a patient from the Emergency Department into a clean, ready bed from the time it is allocated to the patient is down from an hour and a half for both sites to approximately 27 mins for Maidstone Hospital and 36 mins for Tunbridge Wells Hospital. This means the number of hours patients are in ED has been reduced by 110 hours a day.
Time given back to nurses and ward staff to care for patients stands at in excess of 2,740 hours across both hospitals.
By discharging patients in real time using a digital patient wristband the Trust has gained 40 days' worth of bed capacity earlier than it would do using traditional discharge methods.
MTW is the fourth acute NHS Trust in the country to use TeleTracking's system which brings enormous benefits to both staff and patients. Not only does this new way of working help to ensure no patient has to wait for the care or treatment they need, it also means clinical staff have more time to care and spend with patients as they no longer need to make beds or make numerous phone calls to domestics and porters and site teams.
Nick Sinclair, director of operations, Maidstone and Tunbridge Wells NHS Trust said: "The care co-ordination centre and TeleTracking is taking us to the next level in managing our patients more effectively and efficiently for them."
In addition to providing real-time visibility of its beds, TeleTracking's platform allows MTW's care co-ordination staff and executives to analyse operations, use predictive models to anticipate downstream demand, co-ordinate patient placement, sensor-track resources and patients, and adjust resources to changing circumstances in real-time.
"The events of 2020 and early 2021 have really shown us how much value front line staff and patients can get from having a centralised, real-time view of the bed estate," Nick adds. "As we remain in a state of alert regarding COVID-19, combined with addressing the backlog of cancelled elective procedures, the information we'll get from TeleTracking will completely change our real-time situational awareness and our future capacity to manage any new surge of COVID / non-COVID presentations."
Pedro Da Silva, clinical site manager for MTW NHS Trust, said: "Not only does this new way of working allow patient flow to be managed more effectively, it also means our clinical staff now have more time to care and spend with our patients as they no longer need to make beds or make numerous phone calls to domestics and porters and site teams. Ultimately, it is allowing our staff to do what they really want to do – care for our patients."
"Traditional bed management processes are debilitating; frontline staff simply spend too much of their time chasing beds. MTW's care co-ordination centre represents an integrated and sophisticated approach to operational excellence and capacity management, moving away from traditional and manual siloed point solutions. Moreover, the commitment that all stakeholders at the Trust have demonstrated over the past year is testament to their ethos to ensure that no patient has to wait for care," says Neil Griffiths, managing director, TeleTracking International.
Other News
Featured Supplier
seca gmbh & co. kg. is the world market leader of medical scales and measuring systems. With seca scales, you benefit from our 175 years of experience in the medical scales and instruments sector. We build highly precise, functional scales to satisfy your needs in medical technology.
Upcoming Events
Coventry Building Society Arena, Phoenix Way, Rowleys Green, Coventry CV6 6GE
28th - 29th June
Edgbaston Stadium, Birmingham
27-28 September 2022
Bournemouth
17-19 October 2022
Pendulum Hotel and Manchester Conference Centre, Manchester
3rd November 2022
Dusseldorf Germany
14th November - 17th November
ExCel, London
15th - 16th November 2022
Access the latest issue of Clinical Services Journal on your mobile device together with an archive of back issues.
Download the FREE Clinical Services Journal app from your device's App store