Improving hygiene in endoscopy
Download PDF version of article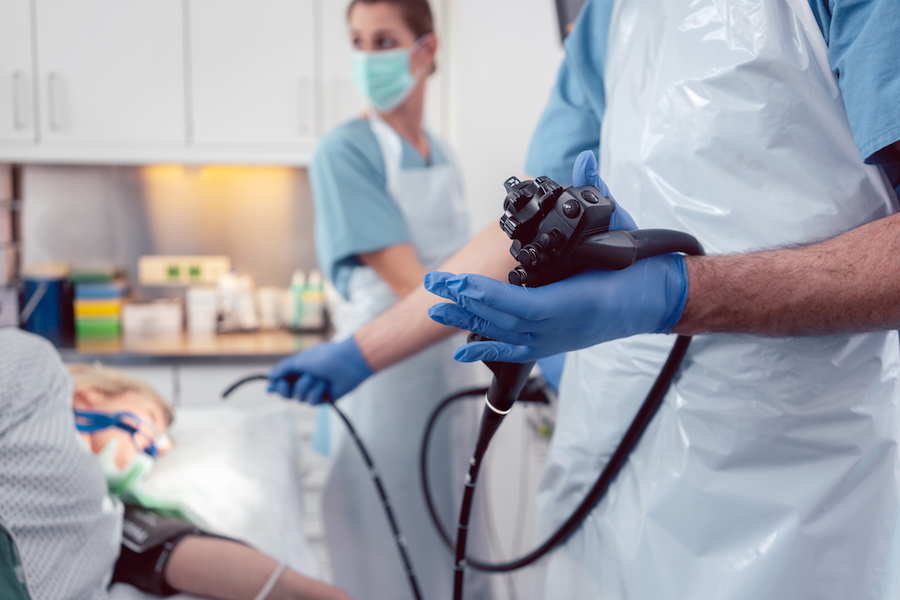 At ESGE Days 2021*, Pentax Medical hosted a symposium to hear from key opinion leaders on Scientific Perspectives on Hygiene Innovation in Endoscopy. The majority of the insights shared in this article were presented during this symposium.
Flexible endoscopes are still predominantly reusable devices. During their use, they can become heavily contaminated with the patient's microbial flora. To ensure patient safety, meticulous cleaning and high-level disinfection is needed to guarantee clean and safe use on subsequent patients. Continuously working to improve patient safety and infection prevention is therefore at the forefront of endoscopists, nurses and reprocessing personnel's focus.
"Infections caused by endoscopes can have an incredible impact both on patients and staff," commented Prof. Marco Bruno, head gastroenterology and hepatology, Erasmus University Medical Center, Rotterdam. "I have had personal experience with infections at my hospital, involving 30 patients. However, solutions have been created to improve patient safety and infection prevention, over the years."1
The importance of drying in endoscope reprocessing
Appropriate endoscope reprocessing is an essential part of patient safety and quality assurance in endoscopy. Research shows that to create and maintain an endoscopes' disinfected status, complete drying is an absolute necessity.2 Dr. Julia Kovaleva, MD, PhD, clinical microbiologist and clinical pathologist department of laboratory medicine, AZ Rivierenland, explained that, during an endoscopy, the environment provides optimal conditions for contamination and subsequent growth of biofilms.
Biofilms are communities of microorganisms within extracellular polymeric material attached to different surfaces, including human tissues, medical devices, water supply systems, or endoscope channels. Development of a biofilm in endoscopes is probably associated with residual moisture in endoscope channels. This is likely to originate from water sources (endoscope washers disinfectors and insufficient dried endoscope channels) containing waterborne microorganisms.
Dr. Kovaleva went on to explain that microorganisms in biofilms are very resistant to antimicrobial agents and allow pathogens to survive under conditions of drying and chemical exposure. The ability for pathogens to survive these treatments, makes the importance of drying all the more critical. Drying the endoscope is important to the prevention of pathogen transmission and nosocomial infection.
Flexible endoscopes should be dried after completion of the cleaning and disinfection process. If the endoscope is not to be reused immediately and is to be stored, the endoscope channels and outer surfaces should be dried thoroughly, in order to avoid exponential microbial growth of possible remaining bacteria.
Dr. Kovaleva further explained that drying and storage in endoscopy reprocessing are just as important for preventing against infection as cleaning and high-level disinfection. Effective drying greatly reduces bacterial contamination of stored endoscopes.
Solutions to prevent contaminated endoscopes
Dr. Vinteler, CEO and founder of PlasmaBiotics, reinforced the message that failure of drying can result in growth of biofilms inside channels, during storage, an important factor in the pathogenesis of endoscopy-related infections. Currently, some solutions include storage cabinets in which the drying time can vary between 30-90 minutes or even more, depending on the manufacturer's instruction-for-use and the endoscope type. The problem with a longer drying time is that it can result in a delay in endoscope availability. For this reason, certain countries, such the UK or the Netherlands, still allow endoscopes to be used without drying after reprocessing, if they are intended to be used within 3 or 4 hours after reprocessing. However, this can be a risk for proliferation if microorganisms and recontamination remain on the endoscope.3
Dr. Vinteler continued: "As insufficient drying can be a source of microbial contamination and the transmission of infectious material, the PlasmaTyphoon is designed to reduce the risk of infection by perfectly drying the scopes. The solution offers a new way to dry and store the scope with plasma, thereby reducing the risk of contamination. The drying process is managed by a patented curve of pressure and temperature. The unit uses a laminar flow to eliminate the water from the endoscope channels followed by a turbulent heated flow to dry the walls."
Dr. Vinteler explained that the PlasmaTyphoon guarantees a dry endoscope in one to five4 minutes (the drying time depends on the endoscope type), and storage up to 31 days5 in a fully controlled environment.6 If the endoscope needs to be stored, after completion of the drying process, a single-use PlasmaBag offers a solution. Plasma, containing ozone molecules, is insufflated into the bag ensuring the dry and disinfected state of the endoscope is maintained due to biocidal effect of the ozone. It allows safe endoscope transportation while reducing the need for repeated reprocessing. This solution stores the endoscopes in a closed and dry environment, free of dust and pathogens in their disinfected state for 31 days.7,8 This solution saves time and space, while enabling improved mobility of the scopes and improved hygiene.
A validated drying and storage solution
Dr. Lionel Pineau, director, Eurofins, Biotech-Germande, went on to reiterate the importance of drying to eliminate biofilm formation: "Manufacturers of portable drying systems need to provide all relevant type-test data to verify and validate process effectiveness," he advised. "They should provide a table and schedule of tests, indicating the performance of such systems, to ensure patient safety."1
Dr. Pineau explained that, to verify the PlasmaTyphoon and PlasmaBag system's ability to dry and maintain the quality of endoscopes, Biotech-Germande conducted a series of tests: "We contaminated two endoscopes; one endoscope was dried with medical grade air and stored horizontally and the other was dried and stored using the PlasmaTyphoon and PlasmaBag system. The endoscope dried and stored outside the PlasmaTyphoon and PlasmaBag system obtained a reduction of contamination by no more than 1 log. The endoscope dried and stored in the PlasmaTyphoon and PlasmaBag system reduced the contamination by at least 2 log."1
Eurofins Biotech Germande's efficacy tests, according to the EN16442, confirmed that when using the PlasmaTyphoon and PlasmaBag system, in accordance with the manufacturer's instructions-for-use, the system allowed for better elimination of the liquid present within the endoscope channels, therefore ensuring better control of the residual contamination levels in the endoscope. The tests also demonstrated that the solutions are compatible with all endoscopes on the market. Dr. Pineau continued: "The same kind of test was conducted using non-Pentax Medical endoscopes and the results remained strong. With this system, physicians can better ensure the quality of the endoscopes, as the reduction of the bacteria inside the channel remains consistent."1 On the contrary, Eurofins Biotech Germande determined that drying an endoscope with just medical grade air, using an airgun and storing it horizontally, without use of the PlasmaBag, resulted in a proliferation of the bacteria inside the channels.
Dr. Pineau concluded: "The prevention of biofilm is vital. The key point is to eliminate water from the endoscope channels. It was demonstrated in our tests that the PlasmaTyphoon and PlasmaBag system is very fast in efficiently drying the endoscope channels. In fact, by making the drying stage more efficient and easy to achieve, Biotech-Germande demonstrated that the system reduced the risk of endoscope contamination and biofilm formation inside the endoscope channels. Additionally, the system allows for safe and controlled transport of the reprocessed scope."
Ulrike Beilenhoff, former president of the European Society of Gastroenterology and Endoscopy Nurses and Associates (ESGENA), provided a practical perspective on the importance of drying stating that: "From the perspective of nurses, drying requires time. Time is always short in endoscope reprocessing and the drying, as shown by field studies, is often skipped. This then leads to issues with biofilm formation and growth of bacteria, thus the importance of standardising drying processes.''
Role of single-use consumables to improve patient safety
Innovative solutions for proper cleaning of endoscope channels are critical to minimising the risk of contamination, and safeguarding patient safety. Concerns of cross-contamination arose after increasing incidences of Carbapenem-resistant Enterobacteriaceae (CRE) and other infections.
These infections may be linked to improper cleaning and/or disinfection of the duodenoscope's elevator mechanism. Single-use consumables can address the main areas of concern for potential infection risk: the distal tip/elevator, the valves, and the channels. A semi-disposable endoscope solution provides all the benefits of reusable endoscopes in combination with single-use hygiene consumables to further enhance infection prevention.
Ulrike Beilenhoff continued sharing her perspective as a nurse, explaining the role of single-use consumables to improve patient safety in endoscopy: "The advantage of single-use consumables is that hospitals can minimise the amount of reprocessing steps. This saves time and resources. Additionally, single-use consumables solve logistical challenges on the hospital floor and ensure traceability.
Of course, the most important benefit is reducing the risk of infection and ability to enhance patient and staff safety."1 Although hospitals must have the financing to supply endoscopy units with single-use consumables, using reusable endoscopes in combination with single-use hygiene consumables further enhances infection prevention. Single-use consumables are ready to use, sterile and always ensure the same high quality, thus enhancing patient safety.
Ulrike Beilenhoff expressed that: "For the workflow, it will be beneficial to have kits which combine the valves, rinsing adaptors, and distal cap so that we have everything in one package, but also for the reprocessing – so that we have dedicated brushes available for each endoscope."
To minimise the risk of contamination from one procedure to another, and support the needs of reprocessing personnel, Pentax Medical has developed a range of solutions to address the main areas of concern in terms of potential infection: the elevator and the valves. Soon to be available is Pentax Medical's DEC Hygiene Pack, including a disposable elevator cap on the DEC video duodenoscope, Pentax Medical Single-Use Valve Set, and Profile single-use cleaning brushes.
Ultimately, increasing global populations and demand on medical care requires closer collaboration between healthcare providers and the medical industry. By working closely with experts, such as Prof. Bruno, Dr. Vinteler, Dr. Kovaleva, Dr. Pineau, and Ulrike Beilenhoff, Pentax Medical is striving to continuously improve patient safety and infection prevention in endoscopy – delivering solutions that are directly based on clinician and patient needs.
*This year, ESGE Days 2021 took place online and was hosted by the European Society of Gastrointestinal Endoscopy. The sessions are available on demand until 31 May. Visit: https://esgedays.org
References
1 ESGE Days 2021 PENTAX Medical Symposium: Scientific Perspectives on Hygiene Innovation in Endoscopy [Broadcast]. (2021, March 25).
2 Julia Kovaleva,a Frans T. M. Peters, b Henny C. van der Mei, c John E. Degener, April 2013 Volume 26 Number 2 Clinical Microbiology Reviews, Transmission of Infection by Flexible Gastrointestinal Endoscopy and Bronchoscopy
3 Petersen BT et al. Multisociety guideline on reprocessing flexible gastrointestinal endoscopes. 2016 update. GIE 2017; 85;2.
4 Evaluation of the efficacy of a drying unit for internal channels of endoscopes according to NF S98-030- Test Report by Biotech-Germande February 2015.
5 Evaluation of the ability of a storage system (plasmabiotics) to maintain the microbiological quality of heat sensitive endoscope. Report by Biotech-Germande April 2017.
6 The maximum storage time may be subject to local regulations on endoscope storage. The country regulation can restrict the maximum storage time to 7 days. Please refer to the relevant regulations or recommendation of your country
7 Evaluation of the ability of a storage system (plasmabiotics) to maintain the microbiological quality of heat sensitive endoscope. Report by Biotech-Germande April 2017
8 The maximum storage time may be subject to local regulations on endoscope storage. The country regulation can restrict the maximum storage time to 7 days. Please refer to the relevant regulations or recommendation of your country.
Other News
Featured Supplier

Bender UK is a renowned expert in the field of electrical safety engineering and turnkey operating room solutions.
With an extensive healthcare team in the UK and the Republic of Ireland, Bender UK is experienced in the design, project management, installation, and through life service support of critical hospital systems.
The scope of...
Upcoming Events
ICC, Birmingham
20th – 23rd June 2022
Coventry Building Society Arena, Phoenix Way, Rowleys Green, Coventry CV6 6GE
28th - 29th June
Edgbaston Stadium, Birmingham
27-28 September 2022
Bournemouth
17-19 October 2022
Pendulum Hotel and Manchester Conference Centre, Manchester
3rd November 2022
Dusseldorf Germany
14th November - 17th November
Access the latest issue of Clinical Services Journal on your mobile device together with an archive of back issues.
Download the FREE Clinical Services Journal app from your device's App store