Certified PPE provider launches in the UK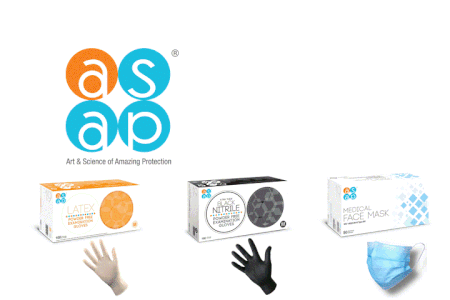 ASAP Innovations represents the medical PPE provider of choice – credible, reliable and most importantly, certified
ASAP Innovations, a leading manufacturer of medical PPE (Personal Protective Equipment) for the healthcare, automotive, industrial, construction, food and beverages industries has officially launched in the UK.
Based in Ireland and Malaysia, with over 30 years' experience manufacturing disposable products in over 80 countries worldwide and a commitment to hygiene control and quality assurance, ASAP Innovations' 150 certified product lines of masks and gloves are now available to UK organisations.
Proper hygiene standard is practiced throughout the development of all ASAP Innovations products, from raw materials handling, processing, production, inspection, to the finished product.
ASAP Innovations ensures that each design meets current trends and abides by all regulatory requirements, with all its masks and gloves tested and certified by authorised notified bodies to EN standards. Its masks comply with EN 14683 and EN149 standards and its gloves comply with EN 455 and EN 374 standards.
PPE has been a lifeline for the healthcare industry this year, enabling it to continue providing the best quality care to patients. However, the result of this is a worldwide shortage of gloves, which ASAP International HQ estimated was at 20-25 billion gloves per month at the height of the pandemic.
While it's promising to see government's and organisations taking steps to protect their people, the sheer demand for PPE has presented opportunities for fraudulent activities, with the British Standards Institute (BSI) finding an increase in PPE being sold with documentation that is either inaccurate or has been falsified. This can be extremely concerning as equipment used to protect healthcare employees should do what it sets out to do; protect both the individual, as well as the patients they care for, particularly in the current climate.
It is therefore crucial that PPE products are selected based on the fact they are tested and certified by authorised bodies to EN standards and that buyers have complete confidence in the products they're purchasing.
ASAP Innovations' products include medical face masks for both adults and notably, children – a product line that isn't currently widely available. It also includes nitrile gloves, latex gloves, vinyl gloves, cleanroom gloves and surgical gloves. All of its products on offer are highly regulated and certified to EU standards, unlike a lot of the PPE on the market at present – all ASAP Innovations products are registered with the European Medical Device Directive (MDD). Sean Keller, Managing Director, ASAP Innovations comments: "To protect public health, it is crucial that organisations and the public have access to the best quality and regulated PPE from a credible, certified provider. A lot of PPE providers overpromise and underdeliver even when dealing with such important equipment which is a major concern considering the consequences can in some cases be fatal.
If you are looking for certified protection for your functional and practical needs, choose ASAP Innovations, where transparency and legitimacy are the priority.
ASAP – quality you can trust with certified products.
See more about ASAP INNOVATIONS (UK) LTD
Other News
Featured Supplier

SureWash is a CPD certified hand hygiene training system that educates and trains healthcare workers, patient's, and visitors to the World Health Organization (WHO) protocol. Save time, save money, save lives.