CE approval secured for SAFIRA anaesthesia device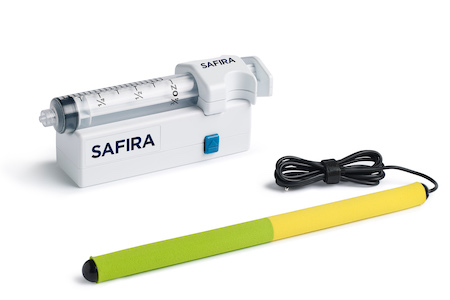 Medovate has announced it has received CE Mark Approval for its medical device SAFIRA (SAFer Injection for Regional Anaesthesia).
Designed to transform regional anaesthesia into a one-person procedure, putting control in the hands of the anaesthetist, the Class II medical device provides a safety solution that monitors and limits injection pressure, helping to improve patient safety by reducing the risk of nerve damage following injection. Economic modelling shows that it also has the potential to generate significant time and cost savings.
Developed in collaboration with anaesthetists in the UK National Health Service (NHS), the device was successfully launched in the US earlier this year, having secured FDA clearance, bringing Medovate's first medtech innovation to market.
Stuart Thomson, managing director, Medovate, commented "CE certification is an important leap forward for our company as we continue to expand our footprint and presence globally. The entire Medovate team have worked extremely hard to deliver both US FDA clearance and EU CE approval for this technology within the last six months.
"Our goal is to provide clinicians with an innovative solution to carry out regional anaesthesia procedures effectively at safer pressures. This is especially important in the current healthcare climate which is facing many challenges."
Other News