Funding to improve diagnosis in cancer, thoracic and liver disease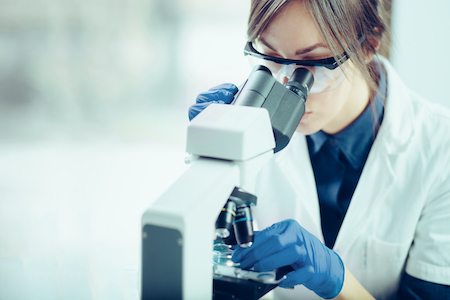 Roche Diagnostics has announced that it is part of three consortia that have each won government funding provided through UK Research and Innovation's Industrial Strategy Challenge Fund.
The funding will help take forward projects to improve early diagnosis in key disease areas including cancer, thoracic and liver diseases. The awards – made under the 'Enabling Integrated Diagnostics For Early Detection' strand of the Industrial Strategy Challenge Fund – include projects from across the UK, taking in research being led by the University of Oxford, the University of Manchester, and Queen's University Belfast.
Each project includes partnerships working across academia, medicine and the medical technology industry to help tackle some of the greatest industrial and societal challenges today.
The Oxford project – The Integration and Analysis of Data using Artificial Intelligence to Improve Patient Outcomes with Thoracic Diseases (DART) – is focused on lung cancer. A team has been assembled from academia, industry, charity and the NHS to integrate data from diagnostic technologies in new and revolutionary ways using artificial intelligence algorithms.
DART will combine clinical, imaging and molecular data using AI algorithms with the aim of more accurately and quickly diagnosing and characterising lung cancer with fewer invasive clinical procedures. This aims to enable the earlier diagnosis of lung cancer, and increased patient survival, as well as significant time and cost savings to the NHS. DART will also link to data from primary care to better assess risk in the general population to refine the right at-risk individuals to be selected for screening.
The Manchester project – Integrated Diagnostics for Early Diagnosis of Liver Disease (ID-LIVER) – aims to address one of the UK's biggest health challenges by bringing together thirteen partners to help diagnose liver disease earlier.
This project will address the challenge by teaming up with companies to make software that stitches together a wide range of different tests to help diagnose patients sooner. This would be a big breakthrough from the current 'one-size-fits-all' approach, which does not work for every patient. This project also involves a partnership with academic researchers in Manchester and Nottingham under the umbrella of the NAVIFY platform which is being co-developed by Roche Diagnostics and GE Healthcare.
The final project – The ACTIONED Consortium: integrAted moleCular soluTIons fOr diagNostics and Early Detection in Belfast – has seen Roche Diagnostics enter into a research collaboration with the Precision Medicine Centre of Excellence at Queen's University Belfast and Sonrai Analytics to integrate laboratory results from tissue and plasma samples through genomic-based and bioinformatic analysis of cancer samples in a single laboratory operation. The collaboration will create interconnectivity through artificial intelligence algorithms across a spectrum of molecular tests, quality assessments and image analysis to allow these technologies to work together seamlessly.
Other News
Featured Supplier

iM Med is proud to offer the UK market a real choice of endoscope and surgical instrument decontamination solutions that will match your actual departmental needs and workflow. As the leading UK Partner, iM Med supplies the complete Steelco range of decontamination equipment.