Landmark first surgical AI product deployed at Royal Cornwall Hospital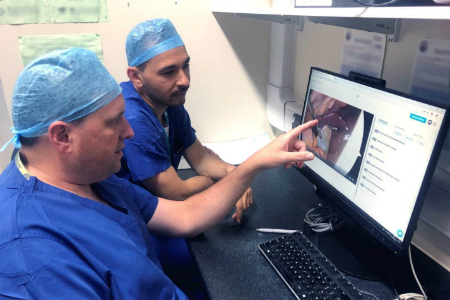 Digital Surgery has announced the deployment of its artificial intelligence (AI) technology stack for surgery, the first of its kind, at the Royal Cornwall Hospital in Treliske, part of the Royal Cornwall Hospitals NHS Trust.
The deployment of the company's product for hospitals, Touch Surgery Enterprise, into operating theatres will enable surgeons, trainees and surgical team members to access videos of their cases safely and securely, via mobile or web, shortly after the case finishes. This allows for improved self-reflection, peer review, communication with non-surgical colleagues, and preoperative preparation.
"We are delighted to be working with the excellent teams at the Royal Cornwall Hospital. Their commitment to quality and safety, as well as teaching and innovation, has been truly inspiring. With this deployment, we accelerate surgery towards more consistent and higher quality outcomes using cutting-edge computer vision products," said Dr Jean Nehme, CEO of Digital Surgery.
"Innovations in anesthesia and med tech have transformed the way surgery is performed. However, we can and should always find opportunities to do better for patients. I'm proud that we are working with committed clinical partners such as the Royal Cornwall Hospital to take on this challenge."
Digital Surgery's technology stack - which utilises compact hardware and advanced AI algorithms - enables automatic processing and uploading of surgical videos for surgeons and their teams. In many hospitals, surgical videos, the richest source of operative information, are often unused or discarded, in large part due to the sensitive nature of the information held within. Until now, the main way to access surgical videos has been to download them manually from theatre recorders or hospital media rooms, a painstaking process which may take hours.
Digital Surgery's proprietary hardware, the DS1 computer, designed and manufactured in the UK, plugs into any existing recording equipment or theatre screen and runs real-time, in-situ AI algorithms to redact out-of-body footage. All frames containing potentially identifiable information belonging to the patient or surgical team are safeguarded, making the video safe to handle within a hospital or Trust. Videos are uploaded to secure, AWS-hosted personal spaces and are immediately available via the Touch Surgery Enterprise software product.
James Clark, consultant upper GI and bariatric surgeon, said: "Having seamless access to my surgical videos has had an immense impact on my practice both in terms of promoting patient safety and for educating the next generation of surgeons. I am now able to sit down with my trainees immediately after the case and review exactly what happened in detail.
"The tool has made the time between cases an invaluable window for teaching, learning and reflection. I can also securely share my videos with my surgical and non-surgical colleagues within the hospital, which helps to encourage discussion and ferment ideas which ultimately promotes a better and safer surgical service for Cornwall."
Charlotte Timmins, care group general manager of surgery and cancer at Royal Cornwall Hospitals NHS Trust, said: "Our mission is to deliver safe and high-quality care for our patients and to use innovative technologies to do so. I'm pleased we are the first NHS entity to deploy this fantastic new technology - it's already had an impact on the way we deliver training, prepare our staff for more efficient and effective cases, and a culture of learning and feedback within the department.
"Bringing in this technology is a true reflection of our surgical and clinical team's dedication, curiosity and commitment to excellence."
Lord David Prior, chairman of the NHS England, said: "The technology developed by Digital Surgery has the potential to transform the performance of the operating theatre and to improve surgical outcomes. This is a great example of British technology and I am delighted that it is being adopted by the NHS."
Photo: Mr James Clark FRCS PHD (consultant upper GI and general surgeon) reviews AI-safeguarded surgical videos with Mr Mohammad Shaban (general surgery specialist registrar), after the case using Touch Surgery Professional
Other News
Featured Supplier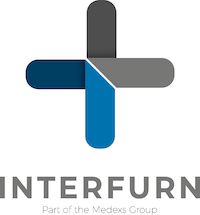 Interfurn specialise in the planning, design and delivery of innovative integrated ventilation solutions for the medical, healthcare and hospital sector. Solutions include ultra clean ventilation and UCV canopies, through to modular building systems, all engineered, manufactured and assembled in the UK specifically for the healthcare marketplace.
Upcoming Events
ICC, Birmingham
20th – 23rd June 2022
Coventry Building Society Arena, Phoenix Way, Rowleys Green, Coventry CV6 6GE
28th - 29th June
Edgbaston Stadium, Birmingham
27-28 September 2022
Bournemouth
17-19 October 2022
Pendulum Hotel and Manchester Conference Centre, Manchester
3rd November 2022
Dusseldorf Germany
14th November - 17th November
Access the latest issue of Clinical Services Journal on your mobile device together with an archive of back issues.
Download the FREE Clinical Services Journal app from your device's App store