Toolkit ensures pregnant women get the right hospital treatment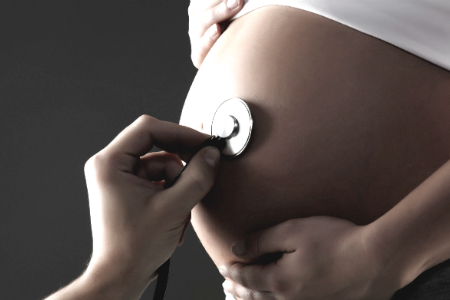 A new acute care toolkit from the Royal College of Physicians and the Society of Acute Medicine provides practical guidance for healthcare staff caring for pregnant women with an urgent medical problem like chest or heart pain, breathlessness or severe headache.
Pregnant women going to hospital with an urgent medical problem will probably be seen first by a specialist in acute care rather than a specialist in pregnancy, so it's important that the acute care team have a good understanding of how medical problems can appear in pregnant women and how to diagnose, treat and manage the medical problem while looking after the health of both the mother and the baby.
Managing acute medical problems in pregnancy explains the differences in the way that common urgent medical problems present themselves in pregnant women, the tests that can be carried out safely, and the different results that can be expected, for some of the more common medical conditions. It will help healthcare staff unfamiliar with the normal physiology of pregnancy to ensure they don't miss any signs or symptoms because they don't appear in the same way as they do in women who aren't pregnant.
The toolkit also advises healthcare staff to take the opportunity to ask about a woman's mental wellbeing when she comes to hospital for other reasons during or after pregnancy. Mental illness can affect anyone, but those with a history of mental health problems such as postnatal psychosis and bipolar affective disorder are more likely to develop new symptoms during pregnancy and the post-birth period, even if they have been well for a number of years. Anxiety and depression are also common. Specialist perinatal psychiatric services have expertise in this area for women who experience symptoms during this time and the acute healthcare team should be able to easily refer patients who need help with these conditions.
The toolkit has a number of recommendations to help both the acute care team and the obstetric team work together to ensure safe and joined-up care for pregnant women:
Both teams should have a named clinical lead for liaison with the other
Contact details for the emergency obstetrics on-call team or midwife should be readily available to staff on the acute medical unit (AMU)
All clinical staff should receive ongoing education and training in the management of acute medical problems in pregnancy and the postpartum period (including use of MEOWS*, the system for identifying pregnant patients in hospital whose condition is getting worse)
There should be clear guidance on what to do if a pregnant woman becomes more ill
Local shared care pathways, services and guidelines should be available for staff looking after pregnant women with urgent medical problems
Pregnant women with known complex medical problems like heart disease or inflammatory bowel disease should be cared for by both teams where a decision may need to be taken regarding the time of the delivery of the baby.
Dr John Dean, RCP clinical director for quality improvement and patient safety, who is series editor for the Acute Care Toolkits, said: "We know that women who present with urgent medical conditions during pregnancy don't always get the care and treatment they need. It can be because staff are more cautious in how to interpret information, or in what investigations or treatments are safe during pregnancy and breast feeding. This can lead to significant harm to both the mother and baby.
"This toolkit is a concise guide for physicians and other healthcare staff on how to plan and deliver care at these times for these women, so they can get the best treatment."
Dr Anita Banerjee, one of the toolkit authors, said: "I am grateful to several colleagues for their help in developing a symptom-approach acute care toolkit to identify the deteriorating pregnant woman. This will signpost all staff when managing common presentations of pregnant women in the unit and support effective multidisciplinary team working."
Notes to Editors
A copy of the toolkit is available free to download from the RCP website.
Other News