Poole Hospital the first NHS Trust to use helium free MR technology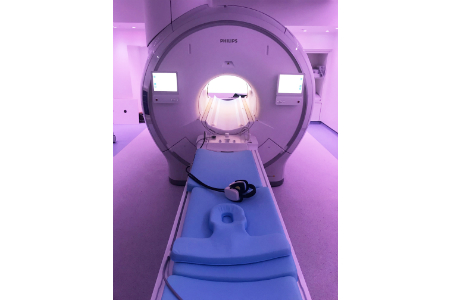 Poole Hospital NHS Foundation Trust is the first UK hospital to introduce a new kind of scanner, the Philips Ingenia Ambition X 1.5T MR - the UK's first MR system to enable helium-free operations.
This technology is designed to significantly reduce the chance of potentially lengthy and costly disruptions caused by liquid helium storage challenges, and could change the industry's relationship with helium by moving from the largest consumer to potentially helium free.
The Ingenia Ambition X not only provides exceptional diagnostic imaging capabilities but importantly can be operated by one person through a guided and intuitive patient set up programme, whereas conventional machines may need multiple people to set up the system for a patient. This freedom could let clinicians have more time to spend with patients, while system improvements can speed up exam times by up to 50% when combined with Compressed Sense software, which creates composite images so patients don't spend as long being scanned. This is all offered without compromising image quality, providing the high-resolution images needed to accurately and quickly diagnose patients.
As health budgets and services continue to remain tested by an ongoing increase in service demand, improvements in the productivity of scanners and reductions in their resource footprint will become increasingly important considerations for healthcare providers when choosing an imaging system. The Ingenia Ambition X has been designed to meet these needs. Being helium-free and therefore lightweight, it does not need to be installed in reinforced rooms with complex venting systems, giving Trusts more freedom when planning where their MR departments and technology are placed.
"We are very proud to be first NHS Trust in the UK to offer our patients this breakthrough MR technology," said David Reed, MRI superintendent, Poole Hospital NHS Foundation Trust. "The Ingenia Ambition X will not only ensure high quality diagnostic care but it could also all but eradicate potentially costly disruptions to service arising from loss of helium should a machine lose its magnetism, referred to as quenching.
"With MR technology being a high-level investment that needs frequent use to ensure return on investment, removing this problem is of great appeal to the team while knowing that, vitally, it will support us to see more patients more quickly, without compromising quality. This is a new approach to diagnostic imaging and exactly the kind of service we are proud to bring to our community."
"The MRI was invented in the UK, so it's fitting that today the UK is introducing another imaging first at Poole Hospital NHS Foundation Trust," said Simon McGuire, Philips UKI health systems lead.
"Philips has long been committed to making the world both healthier and more sustainable through meaningful innovation, and these values come together in the Ingenia Ambition X. Helium is a finite resource, with a large proportion being used in MR imaging scanners across the world. I am proud that we can offer this breakthrough technology that not only supports more patients in getting the care they need but also does so in such a way that enables greater respect for the limited resources on Earth. We're looking forward to strengthening our relationship with the team at Poole, and bringing a new era of MR to the Trust."
Other News