Pioneering 3D scanner helps detect disease early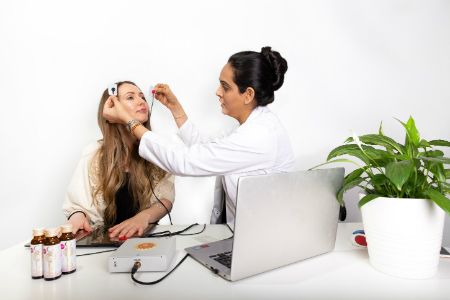 A non-invasive Electro Interstitial Scanner (EIS) has been developed which identifies when organs are not functioning correctly – often before disease occurs.
John Bell & Croyden has unveiled the scanner, which is being offered in partnership with Minerva Research Labs. The device takes information direct from the body's own data store, helping to treat conditions before they develop or deteriorate, and highlights any specific body imbalances and can help with disease prevention.
After 10 years of development, EIS electrical measurements are now better understood due to the results of clinical investigations. Research has shown EIS electrical measurements have a range of clinical applications in different medical fields such as use as markers of ADHD in children and screening for prostate cancer and diabetes.
Also known as a Bioenergetic Electro Dermal device, the EIS scanner measures cellular activities by passing low-voltage electrical current (2.5-2.7DV) through the fluid that surrounds cells, tissues and organs.
It provides a 3D image of internal organs and the spine highlighting any specific imbalances in vitamin, mineral, serotonin, pH and hormone levels. It also gives a better understanding of digestive functions, cerebral neurotransmitters, oxidative stress and biochemistry helping to recommend the most appropriate treatment for each person.
Throughout the scan, which lasts up to three minutes, a total of six electrodes are attached to a person's palms, soles of their feet and forehead. Post-scan, a personalised bespoke nutrition plan is provided that caters to each individual's needs. This service offers a greater understanding of the body giving people the tools needed to care for it for a lifetime. Each appointment (which includes the scan and post assessment) takes approximately 90 minutes and is carried out by nutritionist and homeopath Dr Vidhi.
Dr Vidhi said: "It is a simple and pain-free process in which you can sit comfortably and at ease as the system scans your body. Once the scan is complete, we will thoroughly review the results and prepare a personalised assessment to help rectify any imbalances by identifying what the best eating and drinking needs are for your body."
Alexander Johnston, gneral mnager at John Bell & Croyden, added: "We are delighted to be able to offer the EIS scanner as part of JB&C's InResidence Nutrition Clinic. It is a bespoke evidence-based approach that provides personalised solutions and treatments and is just another example of how we are constantly pushing the boundaries of what a modern pharmacy should offer."
Other News