Sheffield Teaching Hospitals named centre of clinical excellence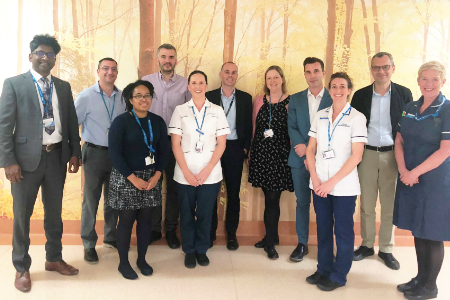 Sheffield Teaching Hospitals has been recognised by Muscular Dystrophy UK for providing outstanding care for people with muscle-wasting conditions.
The Trust was awarded Centre of Clinical Excellence status by the charity, alongside 16 other centres across the UK, including Sheffield Children's Hospital.
The awards, which are conferred every four years, recognise excellence across a range of criteria, including the care received by patients, and help to drive up the standards of clinical support for people with muscle-wasting conditions.
Since 2015, Sheffield Teaching Hospitals has treated over 1000 patients with neuromuscular disorders such as muscular dystrophy, spinal atrophy, neuropathies, and neuromuscular junction disorders.
Neuromuscular disorders are cause muscle wasting and nerve degeneration over a period of time. Whilst some disorders begin in infancy, others may become apparent in childhood or even adulthood. For many years, there was no cure or treatment for these potentially fatal conditions. However, recent advancements have improved quality of life and survival, and there have been promising developments in treatment, particularly with the discovery of new gene therapies and drugs which have improved the quality of patients' lives.
Over the past few years, the team have played a key role in helping to raise awareness of the neuromuscular conditions, organising and running training days and events for GPs, patients, carers and families. These events, which have been hugely popular, have helped further educate patients, families and their carers on ways they can better manage their condition. Patients have also helped to establish and decide discussion topics – with clinicians responding and acting on feedback to focus events on specific topics such as the importance of exercise and available financial support.
The team was also assessed for the quality of services provided to a wide range of patients. This included an evaluation of the role of the team's five consultants, neuromuscular care advisor, neuromuscular specialist physiotherapists, nurses, and associated specialist services such as the orthotics department, wheelchair services and the wider access patients have to care via respiratory, cardiology, orthopaedic and gastroenterology and metabolic medicine services.
Dr Channa Hewamadduma, consultant neuromuscular neurologist for Sheffield Teaching Hospitals NHS Foundation Trust - and the co-chair of Yorkshire and Humber Neuromuscular Regional Network which led the bid for Centre of Excellence, said: "This is an incredibly proud moment for our clinical and management team. Over the past four years the neuromuscular team and the wider extended teams have worked together, tirelessly, to provide high quality services to patients living with complex neuromuscular diseases such as Duchenne muscular dystrophy, spinal muscular atrophy and limb girdle muscular dystrophies in addition to neuropathies and conditions like myasthenia gravis.
"We are particularly proud of the key role played by associated specialist services who help to maintain a better quality of life and for some patients help improve survival. For example, access to immediate assessments help minimise serious respiratory and cardiac complications. Another example is when a review of poor posture due to weak spinal muscles is detected, posture improvement advice and exercises are taught. In some patients if their wheelchair is thought to be unfit for their evolving needs urgent referral and prompt signposting to relevant competent sources are made, to prevent complications. Furthermore, we are very grateful to our patients and their carers and relatives for being with us and the MDUK for all their support to help us provide excellent care."
Professor Chris McDermott, consultant neurologist and the lead for neuromuscular services commented: "Being a designated 'Centre of Excellence' will allow us to build on our research portfolio and enable us to participate in an increasing number of multi-centre research studies designed to identify cures and improve the quality of life of people living with these devastating diseases."
Rob Burley, director of campaigns, care and support at Muscular Dystrophy UK, said: "We would like to congratulate Sheffield Teaching Hospitals NHS Foundation Trust which has deservedly been awarded Centre of Clinical Excellence status. Sheffield Teaching Hospitals provides a comprehensive service for people with muscle-wasting conditions and promotes best practice, ensuring patients have access to the best possible healthcare near where they live. Improved clinical care means faster access to treatments and potential cures."
Other News