Mobile fleet meeting NHS demand across the UK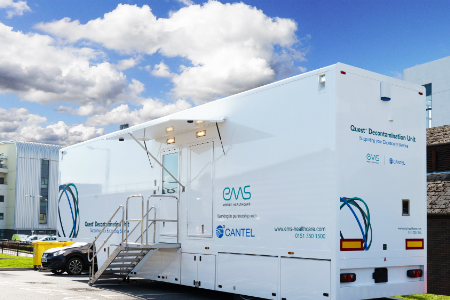 Pioneered by a leading mobile medical unit provider, EMS Healthcare, the UK's first fleet of mobile decontamination units has proven a game-changing innovation for endoscopy departments across the UK.
Capacity is being boosted considerably, with the Barking, Havering and Redbridge University Hospitals NHS Trust now reprocessing 60-70 scopes per day on average.
Launched in late 2017, the first Quest+ Decontamination unit was deployed to Pinderfields Hospital in Wakefield, with further units now providing assistance to Leicester General Hospital and Queen's Hospital, Romford.
For the first time, NHS Trusts are able to continue endoscope reprocessing services without disruption. This creates improved efficiencies either when in-house decontamination is running at full capacity, department refurbishments are required, or equipment has reached the end of its lifecycle – often resulting in shorter wait times for patients.
Designed in accordance with JAG guidelines and developed in partnership with Cantel (UK) Limited, the Quest+ Decontamination unit enables a one-way flow for scopes with separate clean and dirty areas. Boasting top of the range equipment and facilities, features of the unit include four RapidAER Endoscope Reprocessors, Surestore® Long Term Storage, TranScope trolleys, a double endoscopy height adjustable sink, integral RO plant, and a track and trace system.
Responding to changing market demands, EMS Healthcare has also unveiled plans to take its existing endoscopy offer to the next level, with the launch of a fully integrated endoscopy unit proficient in delivering a larger through-put. The aim of the standalone facility – designed to JAG guidelines - is to provide trusts with a complete endoscopy solution, from procedure through to decontamination, utilising state-of-the-art equipment in a comfortable and relaxed environment for patients and staff alike.
The announcement follows a change in recommendation from the National Screening Committee on bowel cancer screenings, now recommended to begin at the age of 50, ten years earlier than previous.
Keith Austin, CEO at EMS Healthcare, said: "This is a game changer for the endoscopy market. Not only will it make a real difference to the marketplace, addressing pressing healthcare challenges including patient waiting times, capacity issues and continuity of service, but it will provide a first-class patient experience."
Other News