Extensive range of quality products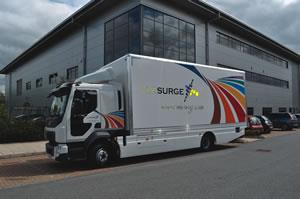 UNISURGE INTERNATIONAL offers a comprehensive range of procedure packs, ward dressing packs, drapes and gowns, as well as an extensive range of sterile supplementaries.
Its range of Signature single-use theatre quality surgical instruments and laparoscopic instruments are designed to complement its core products. Unisurge also has a comprehensive range of both interleaved and bonded sterilisation wrap as well as the exclusive Titepack designed to prevent damage to packs.
ts Newmarket headquarters and distribution facility incorporates intergrated production capability including state-of-theart cleanroom and ETO sterilisation system. Investing for future growth, it now has additional distribution capacity within its new 100,000 sq ft facility in Castleford, together with cutting-edge sterilisation technology and a £1 million automated injection moulding production unit. Production of the new Unicubed range offers a uniqley patented product which is designed to improve both quality and performance.
Other News
Featured Supplier

Bender UK is part of the Bender Group, a global family owned company with a history of technology innovation in the design and manufacture of electrical safety solutions.
Established since 1997 - Ulverston based Bender UK is highly regarded for its expertise as a leader in the design, supply, installation and service of turnkey operating...